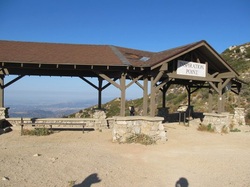 Level: Moderate
/
Strenuous

TRIP IS FULL -- NOT ACCEPTING ANY MORE SIGNUPSWhen:
Saturday 3/23/13 at 8:00am
Where:
Top of Lake Ave at Loma Alta in Altadena
Miles:
11
Cost:
No cost -- Bring own lunch and snacks
Return:
4:00pm
Details:
Day hike to
Inspiration Point
and back. This 10-mile loop is a classic trek up the Lower and Middle Sam Merrill Trails which leads hikers up the steep slopes south-facing foothills into the cool, wooded forest overlooking our own Grand Canyon of the San Gabriels. Once on the north slope, a short traverse through shaded oaks and conifers leads to the historic Inspiration Point. On a clear day, you can look through 100-year old viewing tubes locating popular destinations in Southern California.
Click on "Read More" for more information and sign ups...