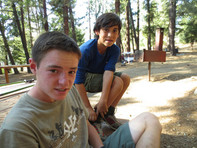 Level: Moderate
May 10-11, 2013
2 Day Backpack Mt. Wilson Trail to Mt. Wilson via Orchard Camp and back
Approximate Total Miles: 15
Details: Friday afternoon (Day 1), leave Sierra Madre at 4pm, hike to Orchard Camp (4 miles). Next morning (Day 2), hike up to Mt. Wilson via Manzanita Ridge and summit Mt. Wilson (3 miles); hike back down, (7 miles). Click on "Read More" for more information and sign ups...

Important -- Please Read!The Troop 4 Backpacking Program is open to all qualified scouts and ASMs. Minimum qualification includes all 2nd year Scouts or older, and ASMs who have attending at least one of the T4 Backpacking 101 Workshops. Some high adventure trips may require additional training and/or qualification.