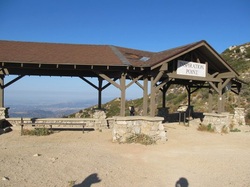 Level: Moderate
/
Strenuous

TRIP IS FULL -- NOT ACCEPTING ANY MORE SIGNUPSWhen:
Saturday 3/23/13 at 8:00am
Where:
Top of Lake Ave at Loma Alta in Altadena
Miles:
11
Cost:
No cost -- Bring own lunch and snacks
Return:
4:00pm
Details:
Day hike to
Inspiration Point
and back. This 10-mile loop is a classic trek up the Lower and Middle Sam Merrill Trails which leads hikers up the steep slopes south-facing foothills into the cool, wooded forest overlooking our own Grand Canyon of the San Gabriels. Once on the north slope, a short traverse through shaded oaks and conifers leads to the historic Inspiration Point. On a clear day, you can look through 100-year old viewing tubes locating popular destinations in Southern California.
Click on "Read More" for more information and sign ups...
The hike down will be through Castle Canyon, past Echo Mountain and back down Lower Sam Merrill Trail to the top of Lake Avenue. This hike will take the better part of the day and requires that every participant bring:
10 Essentials
3 quarts of water
Lunch
Trail mix and/or energy bars
Light hikers or athletic shoes with aggressive tread -- no Vans or smooth-soled shoes.
Important: No scout shall attend without their complete 10 Essentials!
We also require that everyone eat a
healthy breakfast
and
drink at least 1 quart of water
before arriving at the trail head.
---