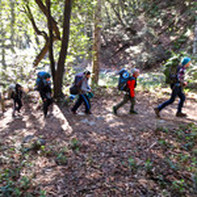 Level: ModerateCANCELED DUE TO RAIN & SNOW!The weather forecast calls for rain and snow in the Mt. Wilson region through Saturday. We will reschedule this trip. I will keep you posted.When:
Friday-Sunday, March 8-10 @ 3:45pm*
Where:
Chantry Flats / Hoegees / Henninger / Eaton Canyon
Total Miles:
14+
Cost:
$25.00ea (Covers all meals including dinner the first night)
Permission Slip: Download here>>, print, sign
bring with you
Number of Backpackers Limited to:
12 (4 slots remaining as of 3/2/13)
Details:*
There are sections that are not easy and is best suited for scouts with some hiking or backpacking experience. Mileage will be fairly high Saturday, where we will be covering about 11 miles, 8 of which are downhill.
Click on "Read More" for more information and sign ups...
Due to the mileage of this two-night trip, a backpack shakedown is required prior to leaving. Date, time and location TBA.
If you want to get a head start on
what to bring
, click on the
Backpacking Checklist>>
. Remember your
base weight
(everything but food, fuel and water) should weigh 20lbs or less. On our last backpack, the scout's packs averaged 17lbs each! The temperature low was 38° and the high was 66°. Everyone was warm and dry.
Itinerary:
Day 1:
Meet at Chantry Flats
lower parking
lot at 3:45pm. Hike into Hoegees Camp via Lower Winter Creek Trail (2 mi).
Day 2:
Saturday, hike to Henninger Flats via Upper Winter Creek Trail and Mt. Wilson Toll Road (11 mi).
Day 3:
Sunday, return via Toll Road to Eaton Canyon at the Overflow dirt parking lot at the south end of the park (3 mi)
Est. Arrival to Eaton Canyon Overflow Parking Lot:
12:00PM Sunday
*Trip details are subject to change
Important -- Please Read!
The Troop 4 Backpacking Program is open to all qualified scouts and ASMs. Minimum qualification includes all 2nd year Scouts or older, and ASMs who have attending at least one of the T4 Backpacking 101 Workshops. Some high adventure trips may require additional training and/or qualification.