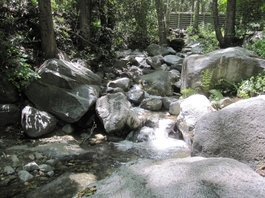 Level: Easy/ModerateTRIP COMPLETED
-- Get the Trip Report
Here
When:
Friday-Saturday 2/22/13- 2/23/13; 3:45pm*
Where:
Chantry Flats / Hoegees Camp
Total Miles & Difficulty:
6mi, easy to moderate
Cost:
$8.00ea
Details:
We will meet at the Chantry Flats lower parking lot at
3:45pm
, hike into Hoegees via Lower Winter Creel Trail.
Click on "Read More" for more information and sign ups..
On Saturday, we will hike back to the parking lot via Upper Winter Creek Trail.
Return:
Chantry Flats, Lower parking lot at 11:00am.
Directions to Chantry:
From Interstate 210 in Arcadia, exit at Santa Anita Ave. and go north 6 miles to the Chantry Flats.
More information on Hoegees Camp
click here
*Trip details are subject to change based on unforeseen circumstances such as weather
Important -- Please Read!The Troop 4 Backpacking Program is open to all qualified scouts and ASMs. Minimum qualification includes all 2nd year Scouts or older, and ASMs who have attending at least one of the T4 Backpacking 101 Workshops. Some high adventure trips may require additional training and/or qualification.